Spooktacular Halloween Day: Outdoor Decoration Ideas to Haunt Your Neighborhood
Posted by Bob Sophiea on Sunday, October 22, 2023 at 9:00 AM
By Bob Sophiea / October 22, 2023
Comment
Halloween is not just a day; it's a feeling, a season of spookiness, eerie silences, and sudden scares. The ambiance created by Halloween decorations, especially those set up outdoors, can turn any friendly neighborhood into a haunted spectacle. If you're looking for Halloween decoration ideas to make your home the most haunting on the block this Halloween Day, you've come to the right place!
1. Gravestone Galore. Transform your front lawn into a graveyard. You can easily find faux gravestones or make your own with some cardboard, paint, and creativity. Add some fake hands and feet protruding from the ground for that extra eerie touch.
2. Web of Wonder. Spider webs are synonymous with Halloween. Stretchable cotton webs can be found at many stores around Halloween or create your own using yarn or white thread. Don't forget to add some large plastic spiders for the full effect!
3. The Classic Jack O'Lantern. Nothing says Halloween quite like a glowing Jack O'Lantern. Carve out some pumpkins with classic creepy faces or go for a more modern design. Place them on your porch steps, or windowsills, or even hang them from trees. Consider using LED candles for a safer, longer-lasting glow.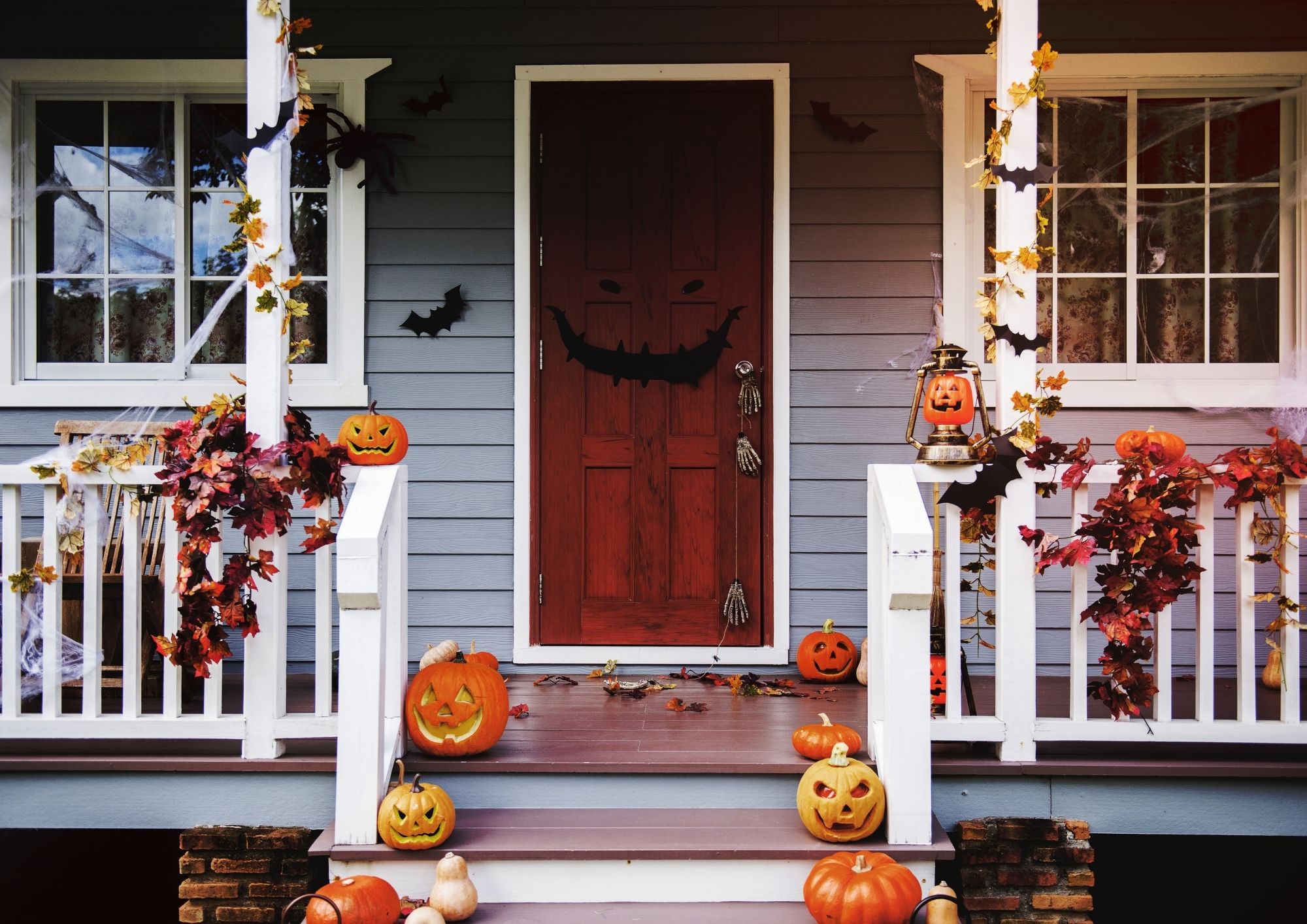 4. Hauntingly Beautiful Ghosts. Ghosts are a staple for Halloween decorations outdoors. Drape some white sheets over-inflated balloons or styrofoam heads. Draw or stitch on spooky faces and hang them from trees or porch ceilings. They'll sway with the breeze, adding movement to your outdoor decorations.
5. Bewitched Pathway. Use luminescent paint or glow-in-the-dark stickers to make footprints leading up to your home. They can be human footprints, skeletal footprints, or even monstrous ones. This not only lights the path for trick-or-treaters but also adds a bewitching touch.
6. Eerie Lighting. Swap out your regular porch lights for colored bulbs. Purples, greens, and reds can cast an eerie glow around your home. Flickering lights or strobe lights can also add a chilling touch.
Halloween Day is an opportunity to get creative and let your imagination run wild. These Halloween decoration ideas are just the beginning. Whether you're aiming for spine-chilling scares or simply a festive fall look, outdoor decorations are a must. Remember, the key is in the details, so take your time, plan out your theme, and most importantly, have fun decorating! Before you know it, your neighborhood might just crown you the Halloween king or queen.
Join us for the Pumpkin Patch Train Ride this Sunday - you won't want to miss it!